- Cherry Blossoms and the Snow Corridor in Tohoku -
Introducing the Royal Plan. It covers popular cherry blossom viewing spots, scenic spots, hot springs, and great spots to eat.
Day1 [ → Japan (Morioka, Iwate)]
On the first day, enjoy great food and cherry blossoms in Morioka
Arrive at Morioka Station
We recommend the Rock-Splitting Cherry Tree and Morioka Castle Ruins Park (Iwate Park) illumination displays at night. (Late April – early May)


If you come to Iwate, you should try the Wanko Soba challenge. How many bowls can you eat? The challenge!

Overnight stay in Morioka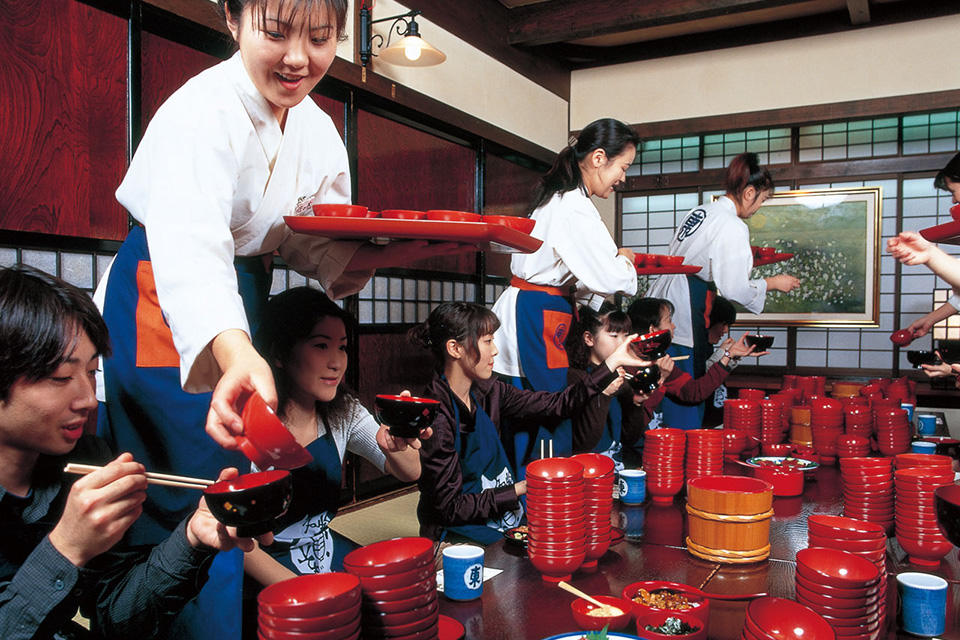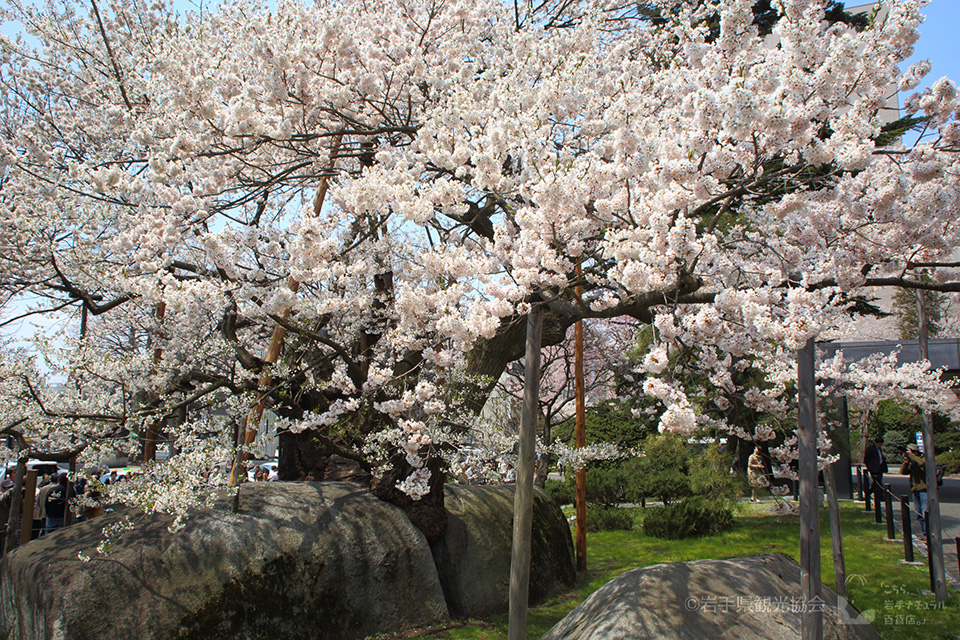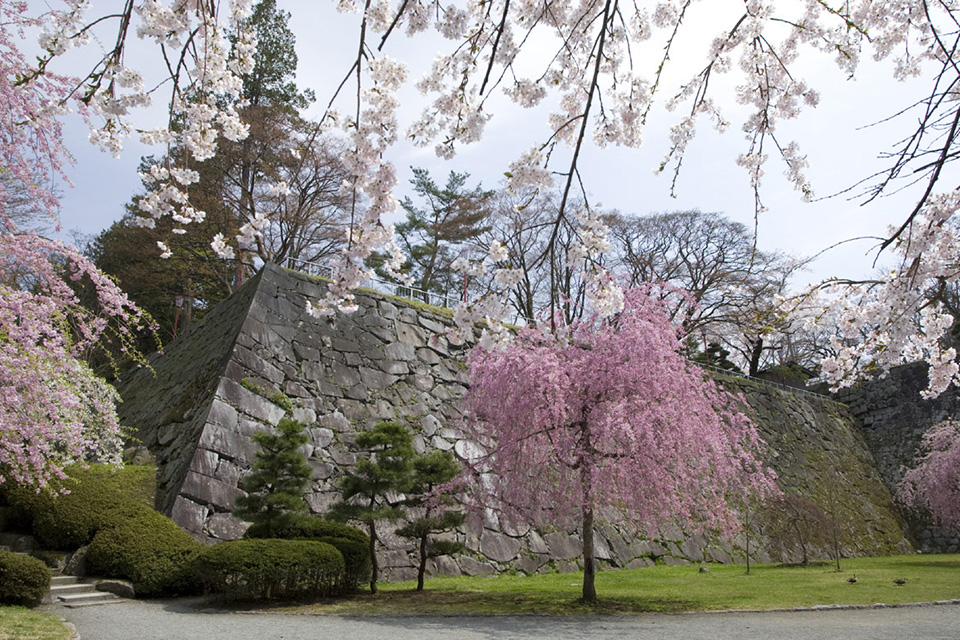 Day2 [Morioka → Hachimantai]
The Hachimantai Snow Corridor is best seen from late April through mid-May, and the Hachimantai Dragon Eye appears from late May through early June! Enjoy natural hot springs and other activities!
Rent a car in front of the station and head for Hachimantai!
↓ (Takes about 45 minutes by car on the expressway)
Go to the Matsuo Hachimantai Visitor Center (Tourism Information Center).
Buy some things to eat and pick up some drinks at the Matsuo-Hachimantai Aspite Farmers' Market next door and set out!
Head to the top of the mountain via the Hachimantai Aspite Line! The snow corridor gradually lifts its walls on both sides of the road.
↓ (About a 30 minute drive)
Arrive at the Hachimantai Mountaintop Rest House.
Rent boots and snowshoes and set out across the snow!
↓ (About a 30 minute walk to the summit of the mountain.)
From late May through early June, the Hachimantai Dragon Eye will open on Kagami-numa Pond, which you pass on the way to the summit.
Enjoy lunch in an expansive natural setting at a mountain lodge or observation deck.
Arrive at the Hachimantai Mountaintop Rest House, and return your rental items.
↓ (About a 5 minute drive)
Enjoy a dynamic outdoor bath while feeling the breath of the wild at Toshichi Onsen.
Even in May you can probably still enjoy look out over the snow while you bathe. (Only open from late April through late October.)
↓ (About a 20 minute drive)
Go down the Hachimantai Jukai Line and take a coffee break at the Matsukawa Hot Springs Cafe, Alpen Rose.
A geothermal dyeing activity is also available (reservation required)
↓ (About a 30 minute drive)
Go strawberry picking! There are many different kinds of strawberries you can pick at the Saikaen Strawberry Farm!
Overnight stay in Hachimantai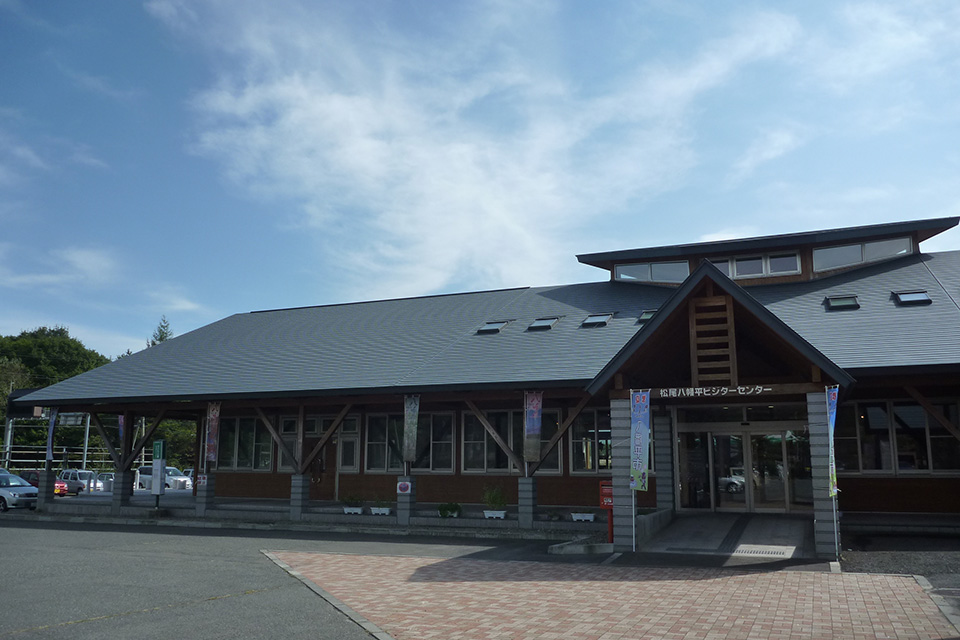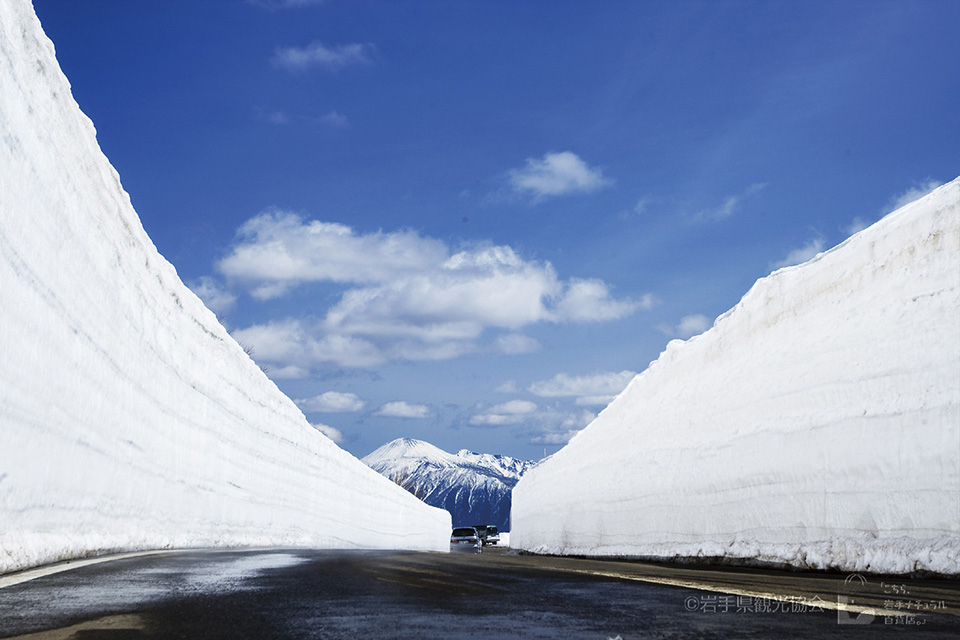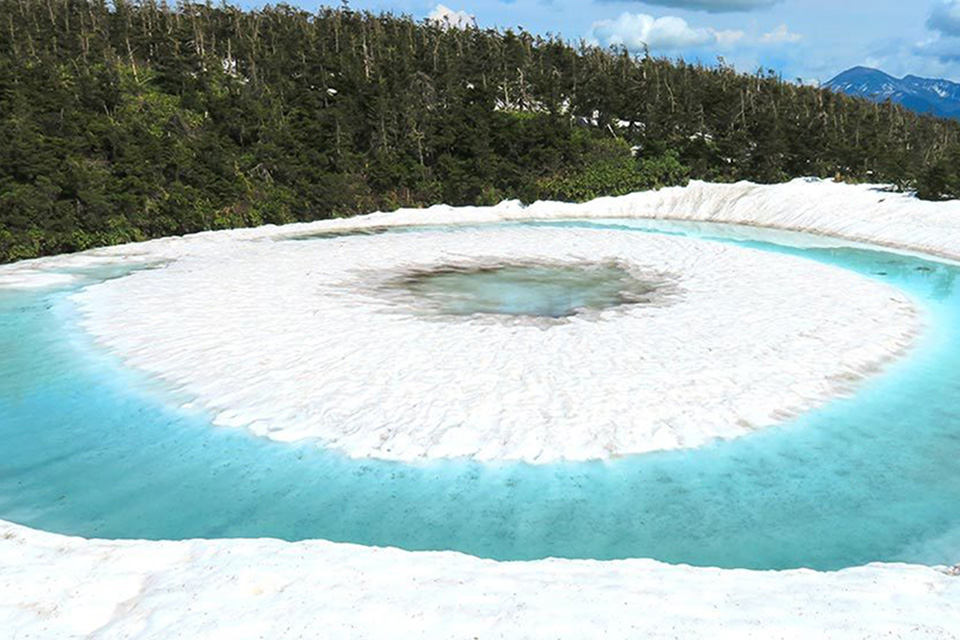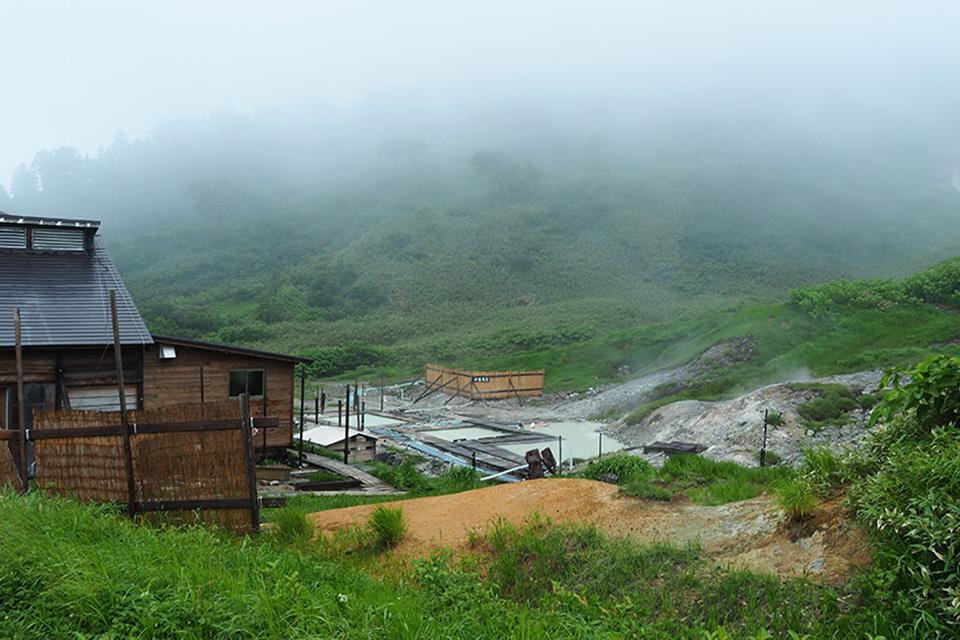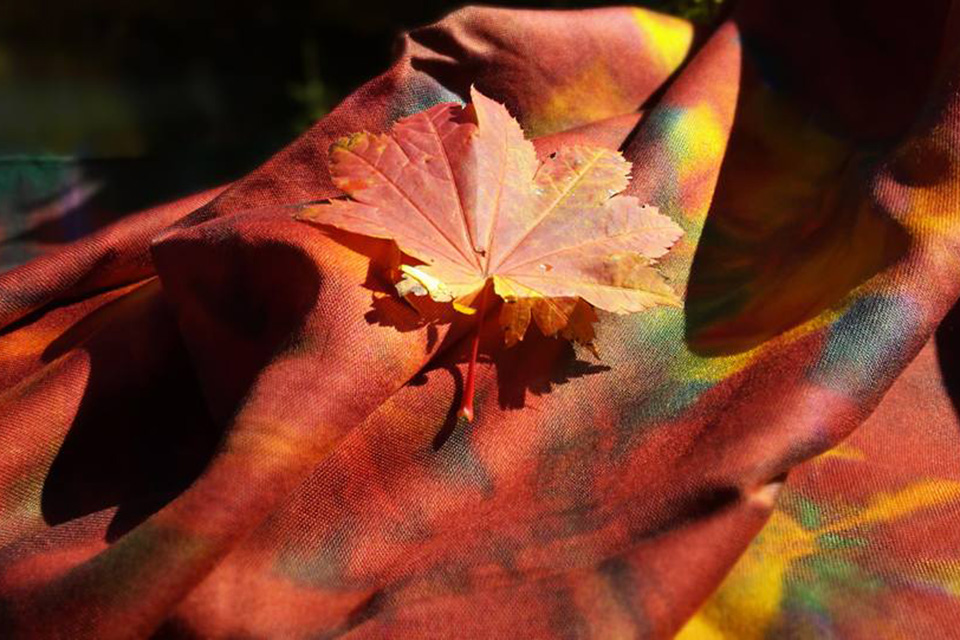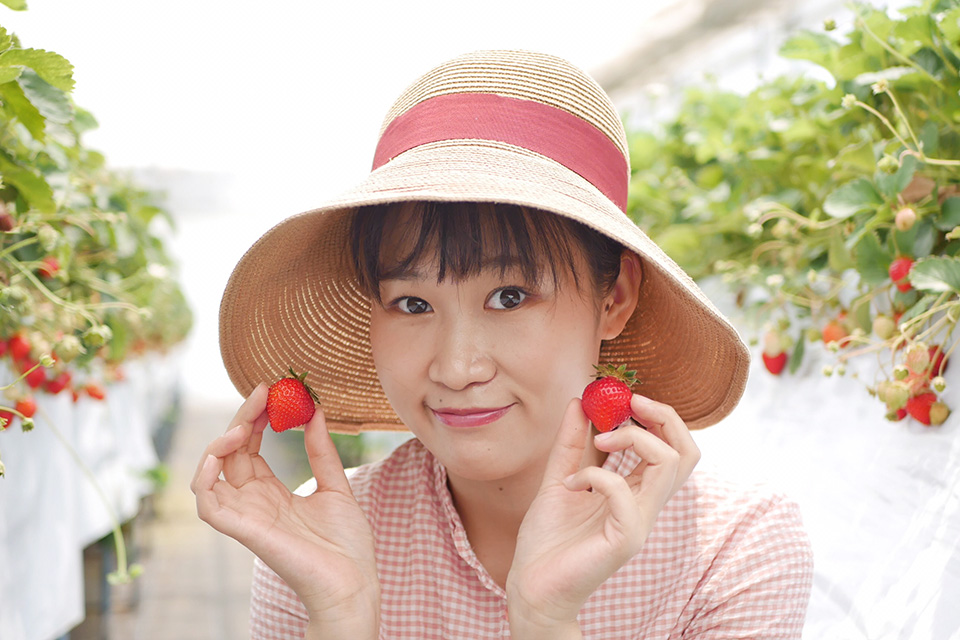 Day3 [Hachimantai → Morioka]
Enjoy taking photos and then feasting upon the great food in Morioka
Take photos of the Uwabo Solitary Cherry Tree standing alone in a field with the massive Mt. Iwate looming in the background and feel the volcanic history of this land at the Yakehashiri Lava Flow.
↓ (About a 5 minute drive)
Meet alpacas at the Salad Farm and don't miss the delicious strawberry sweets and gelato there as well!
↓ (Takes about 20 minutes by car on the expressway)
Return the rental car.
Enjoy Morioka Reimen, one of the three great noodles of Morioka, and feast upon Korean barbecue as well.