- Enjoy the fall colors -
Enjoy the beautiful fall colors of Hachimantai! Introducing activities for you to experience traditional Japanese folk art and culture.
Day1 [Taiwan → Japan (Morioka, Iwate)]
On the first day, enjoy great food and walk around the city of Morioka
Arrive at Morioka Station
If you come to Iwate, you should try the Wanko Soba challenge. How many bowls can you eat? The challenge! On Saturdays, you can also enjoy the "Yoichi" street market held in Zaimokucho. (April through November)
Overnight stay in Morioka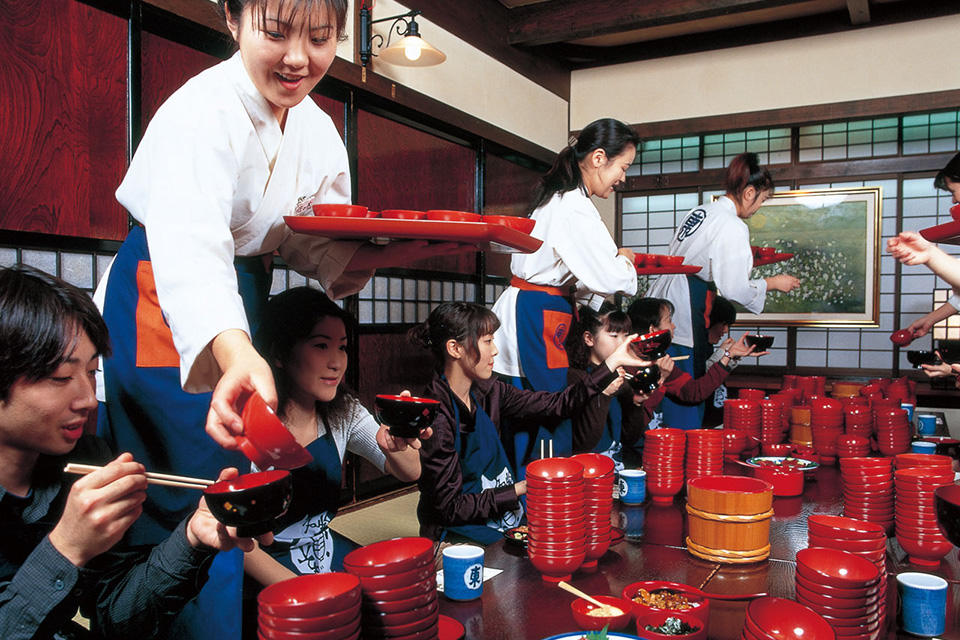 Day2 [Morioka → Hachimantai]
Ride the gondola to the mountain summit to view the fall colors, then head back for a traditional craft cultural experience.
Rent a car in front of the station and head for Hachimantai!
↓ (Takes about 45 minutes by car on the expressway)
To Appi Kogen Ski Resort
Ride the gondola to the summit of Mt. Maemori, surrounded in the fall colors. It's a beautiful beech forest. If you are lucky, you might get a view of a sea of clouds.
Lunch at the Appi Grand Hotel
↓ (About a 20 minute drive)
Experience traditional Japanese folk crafts at the Appi Urushi Studio.
You may become fascinated by the simple beautiful lacquered boxes and glasses. Here you can also try painting Appi lacquered chopsticks, and dessert plates. (Reservation required)
Overnight stay in Hachimantai
Spend the night at a lodging that has an attached hot spring bath.


Day3 [Hachimantai → Morioka]
Visit all the best spots to see the fall colors in Hachimantai.
Matsuo Hachimantai Visitor Center (Tourism Information Center).
Head to the top of the mountain via the Hachimantai Aspite Line
↓ (About a 30 minute drive)
Hachimantai Mountaintop Rest House.
↓ (About a 25 minute drive)
Lunch at Matsukawa Onsen
↓ (About a 10 minute drive)
Matsukawa Valley, Genbuiwa (Please park carefully)
↓ (About a 1 minute drive)
Matsukawa Valley "Mori no Ohashi" (Please park carefully)
↓ (Takes about 45 minutes by car on the expressway)
Return the rental car.
Enjoy Morioka Reimen, one of the three great noodles of Morioka.