The 2019 (2nd annual) Hachimantai Hill Climb Race was held on Sunday, August 25. We went up to the base of the Hachimantai Aspite Line to watch the race and cheer for participating friends. The temperature at the starting line was a refreshing 18 degrees Celsius at 8:00 a.m and a bracing 10 degrees Celsius at the finish line. The main course was 19.1km with a maximum elevation of 1,083m. The average gradient was 5.7% with a maximum gradient of 6.8% and a total elevation gain of 1,134 meters.
This year's winner finished the course in 56:14! The famous James Hobbs, a cyclist that lives in Morioka, though originally from the UK, came in 3rd in his class with a time of 1:01:15! Despite the cloudy cool weather at the summit everyone had a great time and there were no injuries or other mishaps.
Since the race finished quite early, and the awards ceremony didn't begin until after noon, many people decided to take advantage of the discount hot springs tickets given to participants and bathe in some of the famous local hot springs baths.
We went to Toshichi Hot Springs just a little bit down the Hachimantai Jukai Line from the summit to warm up in their famous outdoor baths. There are an amazing six outdoor baths there, including one that is reserved just for women. (The others are all mixed, with of course another indoor bath each for men and women separately.) The popular "onsen tamago" or eggs slowly boiled and seasoned in hot springs at Toshichi Hot Springs were hands down the best that I have ever tasted! If you have a chance to go there, try one!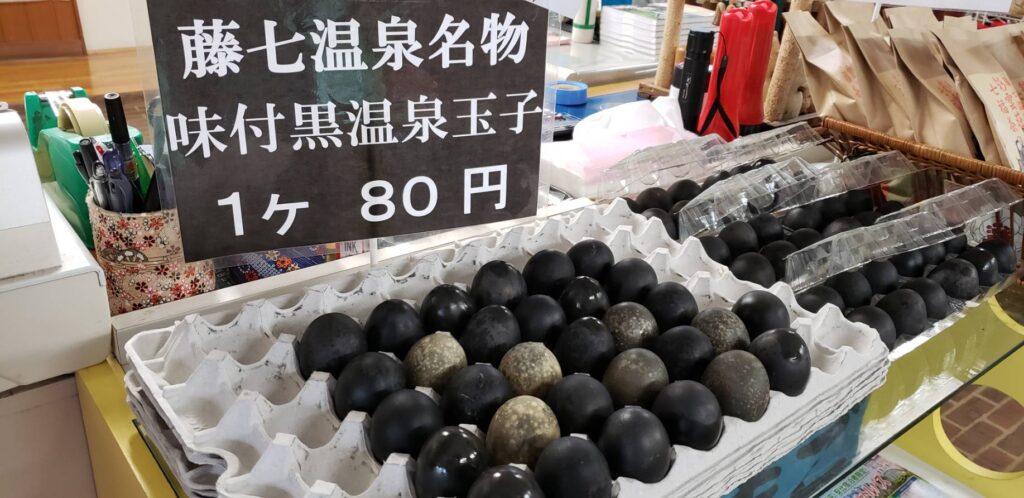 After a bath and lunch, the weather had warmed up and the sun was out for the awards ceremony, where we again got to applaud all the great cyclists.
Come see the event next year, or better still, join in! There is also a 8km Beginners Course if you don't feel up to the full one. There are multiple places for you to stay whether you come to participate or cheer on a friend!
This stunning video shows the joy of cycling in Hachimantai. Part of the Hill Climb course is also shown in this video below. Check it out!